SystemC Panel Discussion Available

At the annual Accellera Luncheon at DVCon U.S. 2019, Laurie Balch from Pedestal Research moderated a SystemC-focused panel that explored what's next and what should be next for the SystemC standard. Panelists: Stuart Swan, Mentor, A Siemens Business; Filip Thoen, Synopsys, Inc.; Mike Meredith, Cadence Design Systems, Inc.; Mark Glasser, NVIDIA Corp.; and Martin Barnasconi, NXP.
Listen to panel >
Technical Excellence Award Presented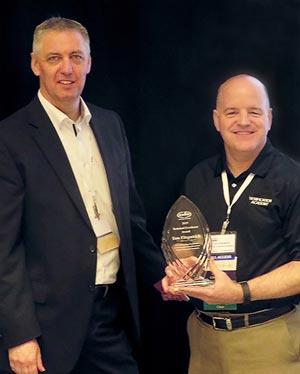 Congratulations Tom Fitzpatrick, recipient of the 2019 Accellera Technical Excellence Award! Tom is a noted verification evangelist and is being honored for his many years of dedication to the advancement of Accellera standards. He has been a key contributor to the evolution and adoption of the Universal Verification Methodology (UVM) standard, Verilog and SystemVerilog standards and the development and launch of the Portable Test and Stimulus Standard 1.0 (PSS).
The award was established to recognize the outstanding achievements of an individual among Accellera's working group members and their significant contributions to the development of its standards. Find out more >
UVM 2017-1.0 Available

New reference implementation is aligned with IEEE 1800.2
The Accellera Universal Verification Methodology (UVM) Working Group has released the UVM 2017-1.0 reference implementation. UVM 2017-1.0 is aligned with the IEEE 1800.2 standard and the enhancements that make it more powerful and easier to use. The working group has addressed some inconsistencies between the UVM Register Layer and other standards. It received a lot of feedback on the 0.9 release, and they were able to fix the bugs that were reported. UVM 2017-1.0 also includes full documentation of the API that is provided in addition to 1800.2-2017.
The UVM 2017-1.0 reference implementation can be downloaded for free from Accellera. The IEEE 1800.2-2017 standard is available free of charge from the IEEE Get program, courtesy of Accellera. Visit the UVM forum to provide feedback, ask questions, and engage in discussions. For more information on UVM, visit the UVM community page.
Featured Events
DVCon India
September 25-26, 2019
The Leela Palace Bengaluru
Bengaluru, India
dvcon-india.org
Call for Papers >
Call for Tutorials >
DVCon Europe
October 29-30, 2019
Holiday Inn Munich City Centre
Munich, Germany
dvcon-europe.org
Call for Tutorials >
Call for Panels >
SystemC Evolution Day
Workshop on the Evolution of SystemC Standards
Colocated with DVCon Europe 2019
October 31, 2019
Holiday Inn Munich City Centre
Munich, Germany
Subscribe to our mailing list: